No visit to Istanbul is complete without walking along, ferrying under, taking the tram across, or enjoying a drink on the Galata Bridge. The bridge spans the Golden Horn to connect the city's two European sides, and is one of Istanbul's most iconic landmarks.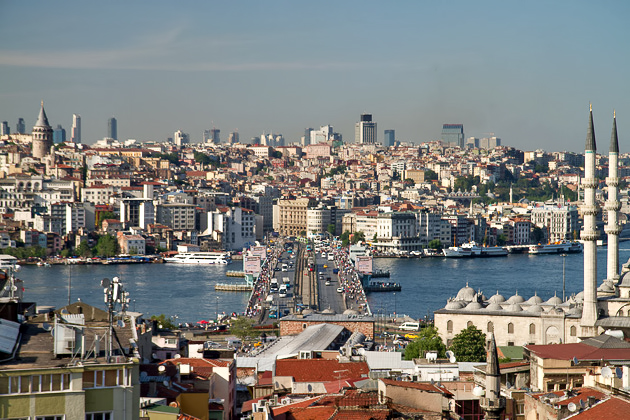 Walking across the Galata Bridge, it's very likely you'll find yourself hooked. And I don't mean "addicted", but very literally hooked. In the face, with a hook. The bridge's most enduring image is its shoulder-to-shoulder fisherman casting off into the water below. The almost unbroken line of bobbing rods is a romantic sight, but not all the fishermen pay careful attention to where they're swinging.
The Galata Bridge is on its fifth iteration, with the current version dating from 1994. The first design for a bridge at this location was drawn by none other than Leonardo da Vinci in 1502. Sadly, his plans never came to fruition, and Istanbul had to wait until 1845 before Galata was connected to the old town.
The bridge is quite low to sea level, meaning that only small ships can pass under. And those, just barely. Its height also makes it an unlikely spot for suicides: in fact, it's not uncommon to see local kids jumping off for fun.
One of the nicest ways to end a day in Istanbul is to grab a drink at one of the many restaurants found underneath the bridge. Even if you're not thirsty, just walking past these places is a memorable event. Competition is fierce, and the doormen will try every conceivable trick to make you choose their establishment over the others. It can be comical; after we said "no" to three in rapid succession, another guy approached us rubbing his hands, and said "Now is my turn! You can not resist me!" Having been brought to laughter, and (more importantly) offered half-off beer, we succumbed to his charms.
–Travel Insurance For Istanbul!