For 91 Days
we lived in one of the world's greatest cities, Istanbul. There is no way to learn everything about this city in just three months, but it sure was fun to try. Fascinating history, delicious food, boisterous markets, world-class museums, and some of the most friendly people we've ever met, made our Istanbul experience an unforgettable one. Hopefully our experiences can help enrich your own. Start
at the beginning
of our adventures, visit our
comprehensive index
to find something specific, or choose one of the articles selected at random, below:
Muradiye, Çekirge and Random Bursa Pics

Bursa is stretched out along the base of Mount Uludağ, and so its main sights are laid out on a long, almost straight line. The Yeşil Camii to the east, Gazi Park in the center, and the wonderful neighborhood of Muradiye to the west. Even further east is Çekirge, home to the city's famous thermal spas….
Jun 17, 2013
A Final Batch of Photos from Istanbul

Istanbul is a photographer's paradise. Both colorful and gritty, beautiful but deteriorated, and filled with people who always seem happy to have caught the camera's eye. We've had a fun time browsing through the tens of thousands of photographs we've collected during our 91 days here, and have selected some which show off the many facets of Istanbul. It's probably impossible to define a city with a few images, but this is our best shot….
Jul 13, 2013
Jumping into the Bosphorus

Despite their pleading, we weren't about to join the group of kids in jumping into the Bosphorus. I don't care how strong the sun is shining! One by one, these brave young souls ran up to the coast of Emirgan and took flying leaps into the jellyfish-infested water below. They tried to tell us that it was warm, but judging by their incessant shivering after climbing out, I suspect they were lying. Still, it did look like fun..
Jun 25, 2013
One of the world's most historic and fascinating cities, Istanbul was our home for three incredible months. We explored the city's museums, neighborhoods, markets, and were introduced to a lot of wonderful culture, food and interesting history. An amazingly diverse metropolis, Istanbul has it all, and we made a concentrated effort to see as much as possible.
We've now collected our blog into an e-book for your Kindle, Nook or other e-reader. With over 100 articles and 230 full-color photos, and indexes organized alphabetically and by category, this portable edition is perfect for when you're out and about in the city. We had a lot of wonderful adventures in Istanbul, and hope that our experiences help enrich your own.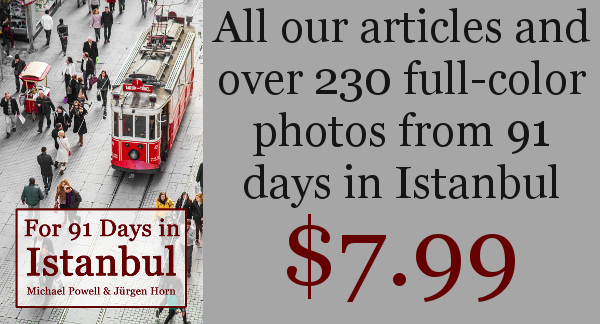 For just a few bucks, you can download your own copy of the book for use on your e-reader or computer, giving you access to our articles wherever you are, without having to connect to the internet. And, buying the e-book is a great way to support our project… take a look at some sample pages from the PDF.