For 91 Days
we lived in one of the world's greatest cities, Istanbul. There is no way to learn everything about this city in just three months, but it sure was fun to try. Fascinating history, delicious food, boisterous markets, world-class museums, and some of the most friendly people we've ever met, made our Istanbul experience an unforgettable one. Hopefully our experiences can help enrich your own. Start
at the beginning
of our adventures, visit our
comprehensive index
to find something specific, or choose one of the articles selected at random, below:
Büyükada – The Big Island

With a name that literally translates to "Big Island", Büyükada is the largest of Istanbul's nine Princes' Islands. We spent a day biking from one end to the other, enjoying fabulous views of the sea, swimming with jellyfish, climbing hills and finding ways to escape the crowds….
Jun 30, 2013
Three Mosques of Üsküdar

Much of our first day on the Asian side of Istanbul was spent visiting Üsküdar's mosques. There are over 180 in just this section of the city, so we had a lot to choose from, but stuck to three of the most well-known: the Yeni Valide, Şemsi Paşa and Atik Valide….
Mar 20, 2013
Miniaturk – Touring Turkey the Lazy Way

Spread across some of the most beautiful land in Europe and the Middle East, Turkey lays claim to a jaw-dropping number of incredible sights. Visiting everything the country offers would take a lot longer than 91 days, so it's lucky that there's an alternative. Welcome to Miniaturk….
May 31, 2013
One of the world's most historic and fascinating cities, Istanbul was our home for three incredible months. We explored the city's museums, neighborhoods, markets, and were introduced to a lot of wonderful culture, food and interesting history. An amazingly diverse metropolis, Istanbul has it all, and we made a concentrated effort to see as much as possible.
We've now collected our blog into an e-book for your Kindle, Nook or other e-reader. With over 100 articles and 230 full-color photos, and indexes organized alphabetically and by category, this portable edition is perfect for when you're out and about in the city. We had a lot of wonderful adventures in Istanbul, and hope that our experiences help enrich your own.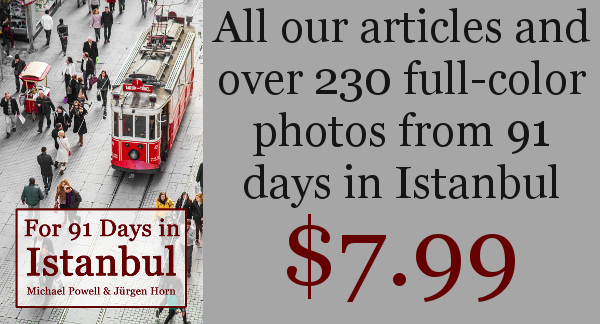 For just a few bucks, you can download your own copy of the book for use on your e-reader or computer, giving you access to our articles wherever you are, without having to connect to the internet. And, buying the e-book is a great way to support our project… take a look at some sample pages from the PDF.